FSC Partner Spotlight: Pacific Fertility Center of San Francisco
Fertility Source Companies would like to honor our partnership with Pacific Fertility Center of San Francisco (PFC-SF) this November!
Pacific Fertility Center of San Francisco

Pacific Fertility Center of San Francisco "leads as a unified team, providing patients with individualized, compassionate care guided by the highest ethical standards". The team behind Pacific Fertility Center sees infertility as a "workable challenge" – one that they are expertly qualified to meet. PFC San Francisco presents a team with over one hundred years of combined clinical experience between six nationally and internationally recognized physicians. All six physicians are Certified Subspecialists in Reproductive Endocrinology and Infertility (REI) with the American Board of Obstetrics and Gynecology.
Pacific Fertility Center's Dr. Philip Chenette has specialized in complex infertility diagnosis in women over forty for the past twenty years. He is actively engaged in advanced research projects such as those involving Comprehensive Chromosome Screening (CCS). Dr. Chenette received his medical degree from Indiana University Medical School, completed his residency training at Magee-Women's Hospital of the University of Pittsburgh, and completed fellowship in Reproductive Endocrinology and Infertility at the University of Southern California (USC).
Dr. Carolyn Givens of Pacific Fertility Center attended the University of Texas, graduating magna cum laude with a B.S. degree in Molecular Biology, received her medical degree from the University of Texas Southwestern Medical School, and served a residency in Obstetrics and Gynecology at Parkland Memorial Hospital. Dr. Givens holds a particular interest in severe male factor fertility, as well as genetic issues often associated with infertility. She is a member of various medical societies including the American Society for Reproductive Medicine (ASRM).
A fourth generation physician, Dr. Carl M. Herbert is often singled out by his peers in independent national surveys, including "Best Doctors in the Bay Area" by San Francisco Magazine and "Guide to Top Doctors" by Consumers' Checkbook. Dr. Herbert is the President of Pacific Fertility Center and actively works to combine the personal care and attention of a private practice with a greater involvement in reproductive research and leading edge advances as evidenced by PFC's position as a leader in the fertility field.
Dr. Isabelle Ryan joined Pacific Fertility center as a physician staff member in 1999. Dr. Ryan directs the Third Party Parenting program, and is the Medical Director of Pacific Fertility Center's Donor Egg Bank, the first independent frozen egg bank in Northern California. A New York native, Dr. Ryan crossed the country to attend the University of California, Davis Medical School. She was later accepted to the prestigious joint Ob/Gyn residency/Reproductive Endocrinology and Infertility fellowship program at the University of California, San Francisco. Dr. Ryan is an active researcher who supervised the first clinical study at PFC.
Since 1981, Dr. Eldon Schriock has been at the forefront of assisted reproductive technology (ART). Dr. Schriock was a part of the medical team that performed the very first in-vitro fertilization (IVF) treatment in Northern California. Noted repeatedly by peers in the national survey "Best Doctors in America", Dr. Schriock's interests involve couples who have not experienced a successful IVF treatment previously.
Dr. Liyun Li received her M.D. with honors from Harvard Medical School where she studied stem cell biology and cultivated a keen clinical interest in women's health. She is board certified in Obstetrics and Gynecology and in Reproductive Endocrinology and Infertility. Dr. Li speaks fluent Mandarin Chinese, and is particularly sensitive to the unique cultural and psycho-social implications of infertility pertaining to Asian families.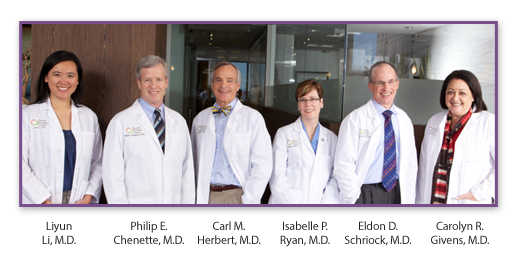 Services Offered:
» PGD
» IVF
» ICSI
» Embryo Transfer
» Fertility Preservation
» and more…
Contact Information:
Philip E. Chenette, M.D.
Carolyn R. Givens, M.D.
Carl M. Herbert, M.D.
Isabelle P. Ryan, M.D.
Eldon D. Shriock, M.D.
Liyun Li, M.D.
Pacific Fertility Center
55 Francisco Street, Suite 500
San Francisco, CA 94133
Phone: 415-834-3095
For additional information visit: http://www.pacificfertilitycenter.com/