FSC Partner Spotlight: Conceptions Reproductive of Colorado
Fertility Source Companies would like to honor our partnership with Conceptions Reproductive of Colorado this May!
Conceptions Reproductive of Colorado – Littleton, CO

The Conceptions Reproductive Associates of Colorado is a leading fertility clinic with a reputation of clinical and technical excellence that spans nearly twenty years. Year after year, the specialists of Conceptions Reproductive work to help hundreds of deserving couples who are on their journey to build families. Because Conception Reproductive is at the forefront of the technology that treats infertility, with our Littleton facility using 17,000 square feet worth of state-of-the-art equipment, we are able to offer our patients high quality treatment and support from their very first consultation to the moment a pregnancy is achieved. One example of the facility's achievement in this regard is the fact that Conceptions Reproductive is nationally ranked based on its SART IVF Success Rates data.
One of the physician specialists leading the charge at Conceptions Reproductive is Dr. Mark Bush, MD, FACOG, FACS. Dr. Bush is a highly accomplished and sought-after fertility specialist with a history of using his combined medical expertise with his keen understanding and compassion to assist those couples facing fertility issues. Dr. Bush's personal journey to his specialty began when he graduated with high honors from the University of California, Berkley. He then attended Georgetown where he obtained his M.D. and completed his residency in Obstetrics and Gynecology at William Beaumont AMC. Dr. Bush later completed a three-year fellowship in Reproductive Endocrinology and Infertility at Duke University Medical Center.
In recent years, Dr. Bush has maintained a record of impressive and revered fertility care through his lectures given throughout the country on PCOS, hypothalamic dysfunction, IVF in women with poor egg health who wish to use their own eggs, and a variety of other fertility-related topics. Dr. Bush is a leader in the clinical application on CCS (Complete Chromosomal Screening) of embryos during implantation. He is also a member of numerous medical societies which include being a Fellow of the American College of Surgeons. In recent years, Dr. Bush has been frequently awarded for his dedication to the field of fertility with the Physician's Recognition Award (10 consecutive years starting in 2003), the Patient's Choice Award by Vitals.com in 2012, the National American Infertility Association Joyce M. Vargyas Visionary Award in 2011, and many more.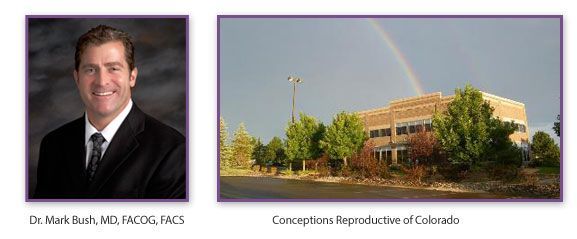 Services Offered:
» PGD
» IVF
» ICSI
» Embryo Transfer
» Fertility Preservation
» and more…
Contact Information:
271 W County Line Rd.
Littleton, CO 80129
Phone: (303) 794-0045
Fax: (303) 794-2054
For additional information visit: http://www.conceptionsrepro.com/