How to Stay Organized During a Third-Party Reproduction Agreement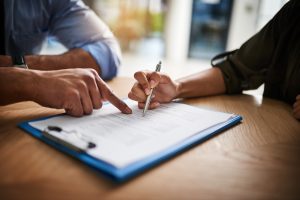 If you're wondering how to stay organized during assisted reproduction, consider how people make weddings happen. These days, you probably wouldn't even think to coordinate all the moving parts of a wedding without a wedding planner; there's the venue, the flowers, the catering, the limousine, the emotional attendants, and much more.
That's why many fertility practices employ case managers to work with you and your partner as well as any other players involved in your assisted reproduction agreement. The case manager will keep you on track when it comes to legal and medical matters.
What is a "third-party reproduction agreement"?
Traditionally, heterosexual couples conceive babies without ancillary participation. Thankfully, we now live in a world where it's possible for LGBT couples, singles, and heterosexual couples who experience infertility to work with outside assistance when building their families. A third-party reproduction agreement involves the intended parent(s), as well as their surrogate and/or egg donor. It delineates the time line and expectations for each party involved. This agreement is usually organized and managed by a fertility agency case manager.
What will your case manager do?
Once you have selected the Fertility Source Companies® division you'll work with (i.e., The Donor Source™ or The Surrogacy Source™ in your area), you'll be paired with a case manager. Our team is comprised of educated, compassionate, professional agency directors and case managers located across the United States.
Your case manager is like your wedding planner; only in this instance, the case manager will be assessing and managing the creation of your dream family, instead of your dream wedding. The reason you'll need an organized and responsible case manager is simple: you and your partner are likely emotional about starting your family, and you'll be partnering with a surrogate or egg donor who is also likely emotional about how she can help you. With all of that emotion flowing, it's important to keep a clear head nearby.
Your case manager will organize your surrogate or egg donor's clinic visits, relay test and procedure results, advise you when to seek legal assistance from a fertility attorney, and provide clear communication among all parties of your third-party reproduction team. Think of the case manager as your fertility QB — and, as football player and coach Woody Hayes once said, "Find a mistake-proof quarterback and you have this game won."
The trick to staying organized during a third-party reproduction agreement is staying informed. Therefore, you'll want to partner with a case manager you can trust, who will help you know — and act on — the most essential legal and medical components of your assisted fertility process. For more information about the dedicated team working at Fertility Source Companies, contact us today.