FSC Partner Spotlight: Fertility Centers of Illinois
Fertility Source Companies would like to honor our partnership with Fertility Centers of Illinois this August!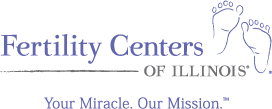 Fertility Centers of Illinois (FCI) locations are conveniently located throughout the Chicago area, specializing in comprehensive fertility services since 1976. FCI is among the largest providers of fertility services in the U.S, and the fastest growing in the Chicago area. This growth has been the result of a supportive and personalized approach to fertility care. FCI offers some of the most sophisticated reproductive technology services and are one of a handful of referral centers for advanced genetic and fertility treatments.

Infertility is not simply a medical problem. Couples often have to cope with feelings of frustration, grief and depression. Because infertility is an intensely personal problem, many couples do not discuss it with family and friends. They suffer in silence and feel isolated. FCI is sensitive to the emotional, time and financial demands involved in pursuing family building goals.
FCI has two state-of-the-art IVF centers, one in Highland Park and one in Chicago (River North), and many physicians across all locations:
Allison K. Rodgers, M.D.
Angeline N. Beltsos, M.D.
Eve C. Feinberg, M.D.
Jennifer Hirschfeld-Cytron M.D.
Laurence A. Jacobs, M.D.
Brian R. Kaplan, M.D.
Edward L. Marut, M.D.
Jane M. Nani, M.D.
John J. Rapisarda, M.D.
Christopher S. Sipe, M.D.
Meike L. Uhler, M.D.
MD Link: http://fcionline.com/fertility-specialists/doctors
The mission of Fertility Centers of Illinois is to provide individualized and compassionate care on the leading edge of technology to deliver the highest level of fertility care. FCI's vision is to be the leader in their field, providing comprehensive fertility care to patients interested in building a family. Services in fertility care offered include:
• Assisted Reproductive Technologies (ART)
• Intra-Uterine Insemination (IUI)
• In Vitro Fertilization (IVF)
• Intracytoplasmic Sperm Injection (ICSI)
For more information, please visit our website at www.fcionline.com or call us at (877) 324 – 4483.