Dodgeball and Donuts for Dads
It's that time of the year when families with school aged children are in full swing of the new year, and event and conference season is upon us.  This brings up a lot of visibility and conversation, and often anxiety for families that can be seen as "non-traditional".

Many schools host an annual "dodgeball and donuts for dads" day. This of course, brings up some challenges for many families.  One lesbian identified couple I recently met talked about being torn.  Should I not attend and create questions for my child?  Should I attend, and will that make my child feel singled out?  Will it give other parents an affirmation of unrealistic gendered stereotypes and come to understand me as "the dad"?  She wondered what was best for her family.
In my own experience as an educator, I observed my own discomfort in making all students and guests feel a part of this event – Students being raised in loving families without dads, but with single moms, grandparents or other caretakers.  A growing understanding of the different ways we come to understand and form families is important for ALL families, not just LGBTQ families.
Working toward healthy and well-rounded LGBTQ families happens at home, in the legal world, the social world, and in schools.  Might I suggest administrations consider an annual frittatas/fruit/freeze dance with families celebration?  What does your child's school do to include your family, or what do you hope to be able to bring your children to as they join your family and grow with you?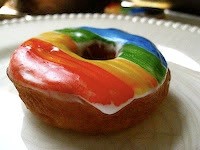 Share your families' story to appear on our blog by submitting to [email protected]
In solidarity and gay donuts,
Skye
Skye Bigari is an educator, community organizer and regular contributor to Fertility Source Companies LGBT blog