04/11/2023
Find Your Cause for National Infertility Awareness Week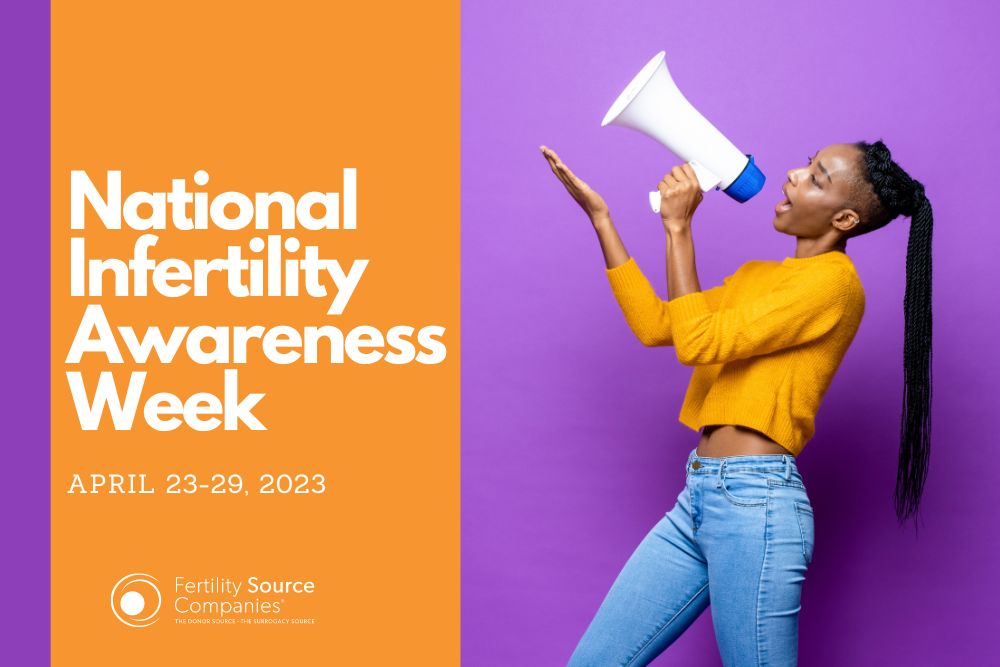 April 23 through the 29th is National Infertility Week (NIAW), a campaign organized by RESOLVE: The National Infertility Association. Finding a cause is an impactful way to commemorate NIAW. At Fertility Source Companies, we believe that finding a cause empowers people with infertility and those needing assisted reproductive treatment (ART). Below are some suggestions on how to find your cause.  
Why Find a Cause?
Many factors can impact access to family-building options, including:
Insurance coverage (which varies by state and federal legislation)
Legislative issues (which affect access to healthcare options) 
Financial barriers to accessing healthcare for in vitro fertilization (IVF) and other reproductive treatment modalities
Lack of public awareness and acceptance
By joining others as a family-building advocate, you can amplify your collective voices and increase your power to make a difference. Advocating, donating, and fundraising are all powerful ways to make an impact on the stigma associated with ART and infertility. Supporting the family planning community is more than just a mission. 
Finding Your Cause 
There are many ways to make an impact when searching for a cause to support. 
Whether you donate, organize a fundraiser, or both, the funds raised help to ensure that as many people as possible have access to assisted reproduction services. 
Donating 
Donating to fertility advocacy networks, such as  RESOLVE, may include:
Donating online, by phone, or by mail
Making a tribute gift, honoring someone 
Giving via a donor-advised fund (an organization that manages charitable donations)
Contributing to a workplace fundraiser
Contributing to the Combined Federal Campaign (workplace giving campaign for federal employees and retirees)
Fundraising
Starting a fundraiser can significantly impact those with infertility while supporting the many causes of NIAW. Types of fundraisers include:
Hosting an event, such as a party, happy hour, or a virtual event.
Planning a workout, yoga class, or other fitness activity to raise funds for the cause.
Starting a corporate/medical practice event. 
Putting together a DIY Walk of Hope event in your community.
Participating in a marathon to raise funds.
Creating a Facebook fundraiser.
Learn more about starting a fundraising event here. 
Advocating for the Cause
In many states, access to fertility treatment is only available because of members of infertile communities advocating for it. Across the country, there are many legal causes that you can advocate for, such as improved insurance laws for fertility care or amending third-party reproduction laws. Whether you write letters or make phone calls to lawmakers using form letters or take other measures, your voice can influence legislation. Some ideas include: 
Signing up For Alerts: Action alerts from RESOLVE Advocacy Network (RAN)  provide instant notification on important family-building legislative initiatives.
Downloading the State Advocacy Toolkit: Downloading the state advocacy tool is one way to get started advocating for state legislation that supports your state's family-building endeavors.
Attending NIAW Advocacy Day: RESOLVE is partnering with the American Society for Reproductive Medicine (ASRM) to offer the NIAW Federal Advocacy Day. April 25th is designated a day to discuss important issues with members of Congress (e.g., increasing access to family-building options). The virtual program involves how to #UseYourVoice to advocate for legislation that impacts the family-building community. 
Stay Informed
Staying informed on important issues – such as increasing insurance coverage and opposing laws that can potentially complicate the legality of IVF – is an important aspect of advocating for the cause. Learn more about how to stay informed on major infertility and reproductive care news here.