Employee Spotlight: Theresa, Surrogacy Program Director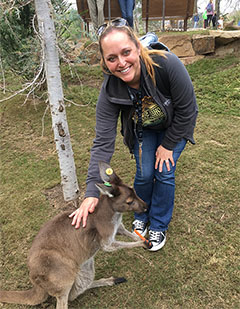 2020 will be Theresa's 11th year at FSC. She finds so much joy in helping to create families: "The best part of my job is conducting the initial meeting between the intended parent and the surrogate. I love seeing their initial connection and hearing their stories. It's very fulfilling to be a part of their journey."
Get to know Theresa, Surrogacy Program Director
Theresa joined FSC in 2009 as a Surrogacy Case Manager and now her focus is matching Intended Parents with Gestational Carriers. She works hard to match Intended Parents and Gestational Carriers in the hopes of having a smooth journey. She is a 3-time surrogate who carried one singleton and two sets of boy/girl twins. Each journey was a unique and rewarding experience.
Theresa and her husband are raising their two sons in Southern California. Her eldest, age 17 is a junior in high school. Her youngest, age 14, is a freshman in high school. When she isn't working, Theresa enjoys cooking, baking, traveling and spending time with her 7-year-old rescue dog, Charlie. Her favorite place to go is Maui. Some of her other favorite places include Germany, Alaska, New Hampshire and Sedona, Arizona. She also enjoys camping in the many different regions of Southern California. Theresa also looks forward to an annual 4th of July trip with friends and family to enjoy the fireworks over Big Bear Lake.
"I've enjoyed my journey with FSC so far and look forward to helping more families grow in the future."
FSC's CEO says, "Theresa constantly impresses our staff with the depth of her knowledge of surrogacy and has always been a sounding board for the surrogacy process. She is intimately aware of what a gestational carrier endures during the matching and a hopeful subsequent pregnancy. She brings her compassion and knowledge to help intended parents understand the process and all the intricate details that will be involved in a cycle with their gestational carrier. Theresa has been an amazing asset to Fertility Source Companies for the last 11 years, and we look forward to many more with her."