Healthy Holiday Habits for Your Surrogacy Journey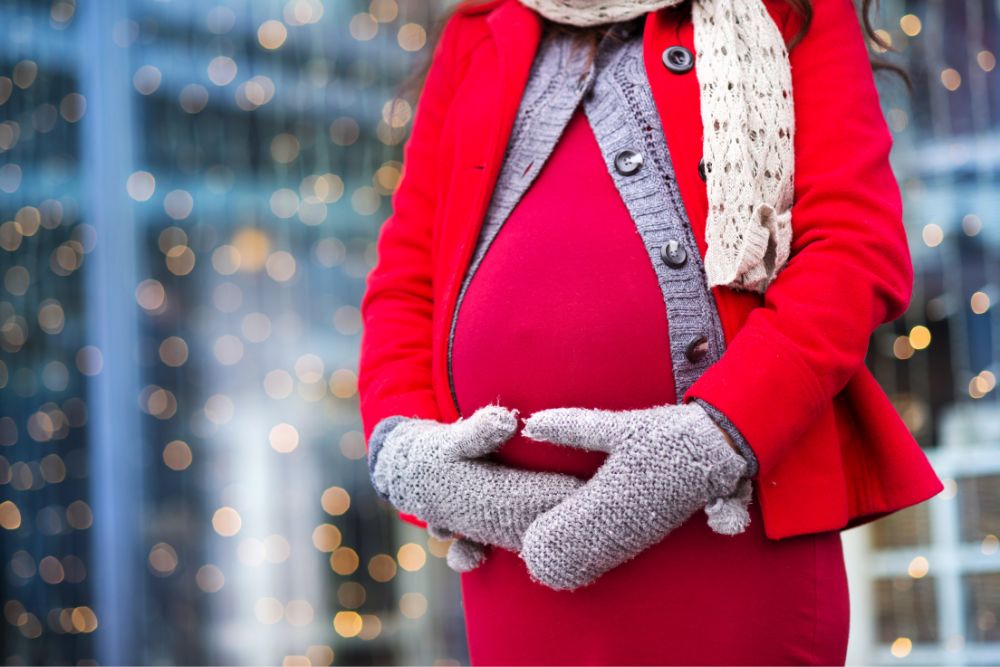 The holidays can be a wonderful, yet stressful, time. Friends and family are around, Mariah Carey blasts in every store, and an inordinate number of sugar cookies keep appearing in your house.
However, the hustle and bustle, financial demands, and general chaos around the end of the year can make anyone a little stressed. Throw the excitement of an upcoming baby into the mix, and it's easy to see how this time of year can be complicated for surrogates or intended parents. If you're going through the surrogacy process this holiday season, here are a few healthy habits to keep you sane and feeling your best this season.
Prioritize Staying Active
While your resolution to hit the gym might not take effect until after New Year's Day, it's still important to stay active during the holiday season. Not only will it help you to stave off the weight gain from all the extra sweets, but it will also help you to feel your best.
For parents, traditional wintertime activities like ice skating, skiing, or snowshoeing can be a great way to work in some cardio while having fun. Additionally, you can learn some mindful activities, like yoga or pilates. Both of these practices can help you stay grounded, as well as provide the benefits of physical activities.
As a surrogate, exercise is a great way to stay healthy while pregnant. You might be less concerned about the appearance of a few pounds, but taking 30 minutes a day to move your body has so many benefits. Vigorous exercise is not generally recommended, but going for a walk, prenatal yoga, or going snowshoeing can be a great way to stay on track and meet your fitness goals.
Monitor Your Mental Health
The holiday season is an important time to keep tabs on your mental health. For some people, festivities can be a reminder of family and friends that aren't there, or the financial stress of the gift-giving season. What is marketed as a joyful time can sometimes be quite the opposite.
A case of cabin fever or the winter blues can be normal, but don't brush off your mental health concerns just because of the time of year. Knowing the symptoms of depression can help you recognize when you're just not feeling your best, or if something more serious is at play. These include:
Feelings of hopelessness
Disinterest in hobbies or activities
Changes in your sleep patterns, such as insomnia or oversleeping
Social withdrawal
New fatigue, or lack of energy
Adopt habits this winter that can help to strengthen your mental health. Learning to meditate while pregnant can be a great way to reduce stress and feelings of depression for surrogates, and intended parents can find benefit in meditation as well!
Enjoy Eating Healthy
One of the best parts of the holiday season: the food. A great big holiday meal surrounded by loved ones can be a highlight of every year, but being bogged down by an endless supply of molasses cookies and candy canes will affect more than your waistline.
In general, it's okay to indulge yourself a little over the holidays. However, you'll want to make sure you're also including healthy foods that can promote wellness, such as fruits and vegetables. This ensures that your body has the nutrients it needs, which can sometimes be neglected on a diet of pie and turkey. Additionally, it's important to not skip meals to "save space" for the big ones. Skipping meals is counterproductive, as it breaks your routines and can lead to drops in blood sugar, which amplifies feelings of stress, exhaustion, and hunger. 
For surrogates, what to eat while pregnant is a conversation you've likely already had with your doctor. However, our guide on what to eat while pregnant over the holidays can be a great refresher and provide some healthy, holiday-specific pointers.
Lean On Your Support Systems
While seeing loved ones can be the highlight of the season, they can also be stressful. In-laws you never got along with, political conversations with relatives, or old sibling squabbles can all keep you from fully enjoying the holiday cheer.
Moreover, for those pursuing surrogacy, talking about your decisions with family can sometimes be uncomfortable. Well-intentioned relatives might ask awkward questions that bring up trauma about your fertility experience. During this time, it's important for both surrogates and intended parents to rely on your support networks.
Your support networks are specific to you. For some people, their partner is their most important source of support, while others rely on friends, parents, or even a mental health professional. Talk about your feelings with your surrogacy team and support network. They can provide you with the emotional support and resources that you need. They can be helpful not only during the holidays but are there to be relied upon throughout this wonderful, but stressful, process.
Healthy for the Holidays
Whether you're a gestational surrogate, egg donor, or intended parent, maintaining good habits is essential for having a happy healthy holiday. Not only will they set you up better for a happier new year, you'll also be more prepared for whatever chaos the holidays throw your way. If you're just getting started on your surrogacy journey, finding a supportive surrogacy agency is a crucial first step.